FEED CADDY MODELS

Model 3630

Feed Wt: 440 lbs

Length: 4 ft
Width: 3 ft 10 in
Height: 3 ft

Model 4642

Feed Wt: 1102 lbs

Length: 6 ft 8 in
Width: 4 ft 10 in
Height: 3 ft 7 in

Model 6044

Feed Wt: 2204 lbs

Length: 7 ft 8.5 in
Width: 4 ft 10 in
Height: 4 ft 4 in
---
| | | |
| --- | --- | --- |
| | TESTIMONIALS | |
---
December 1 - 2011
Feed Caddy Managers recently attended a poultry farm demo, arranged by Sales Manager Roger Harmelink. Roger has 4 units working on Poultry Farms in the Live Oak Florida Territory. These growers are very pleased with the Feed Caddy, and the overall time it takes to place feed for new chicks.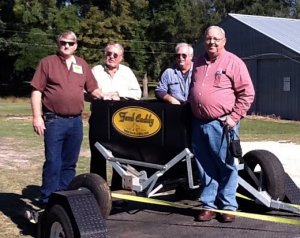 Feed Caddy Managers (Right to left) Lee Ward, Roger Harmelink, Harvey Payne, Feed Caddy Sales Manager Ken Thompson.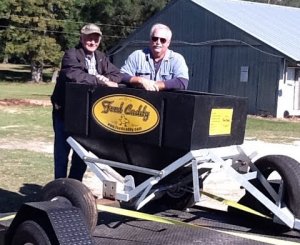 Pilgram Grower (left) and the Feed Caddy Southeast Manager Roger Harmelink (right) after an on-farm demo.
---

Call Ken Thompson, Accounts Manager at 904 334 3654.
Email: KWT@nefcom.net


Dealers wanted in select territories...



Feed Caddy is a trademarked product and is sold world wide through a division of Starlite MFG Inc. Starbuck MN Canada. All products, information and graphics are copyright protected in Canada, America and countries world wide. Any use without permission is prohibited.

Site by:Jim@JimOnline.com